Have you been baiting any hooks lately?
Numbers are funny things. Sometimes they tell a story and sometime they don't. For example, I can look at two baseball players and know by their numbers which one is the more prolific batter. A player whose batting average is .350 is a player who is getting hits 35% of the time, while a batter hitting only .200 is hitting safely only 20% of the time. In a key situation, when the game is on the line, I know which guy I want up to bat.  The numbers tell me that story.
When I was in sales, every year I had to develop a budget that included how many pieces of individual parts I was forecasting to sell and the dollar value of those sales. From that forecast I was assigned a quota and if my sales at the end of the year exceeded my target then I received compensation in line with what I sold. I could have worked harder than anyone in the company but if I didn't make my numbers then I didn't get the financial reward. People might tell me I was doing a good job, they might congratulate me on this or that success, but in the end, the other thing that really mattered was the numbers.
Any preacher or elder who tells you that he isn't really paying attention to attendance numbers is not telling the whole truth. Church leaders are always watching the numbers and certainly the numbers tell us things.  If worship attendance is slipping then wise leaders will try to find out why and if there is an issue they will seek a solution.  But attendance isn't the only important number. For example, here's a number that tells me something:  27. So far in 2018, 27 different individuals who are not members of the church that Jesus built have engaged in a Bible study with someone at Jersey Village.  Most of these studies take place in my office on Sunday morning or on Wednesday and have been led a handful of men and women who are dedicated to sharing the gospel. We are certainly blessed to have brethren like Chris Ward, Billy Alexander, Jim Avalos, Lynn Ward, Carolina Avila, Glenn Bates, Aaron Ward, Gwen Alexander, Jaston Richter and so many others who have a passion to save souls.
However, when it comes to saving souls, numbers don't always tell the whole story. Paul wrote in 1 Corinthians 3:6, "I planted, Apollos watered, but God gave the growth." There is a certainly lot of planting and watering going on at JV, but we can't forget that the number of people who respond to the gospel is not a reflection of the work of the individual, but of God. God moves people to respond on His time, not ours.  And so, while we may have many studies going on, the growth in numbers is in God's hands and not ours.
I grew up less than 1 mile from Roark Creek, which empties into Lake Taneycomo in Branson, MO.  Lake Taneycomo is one of the best trout fishing lakes in the country. Those trout would back up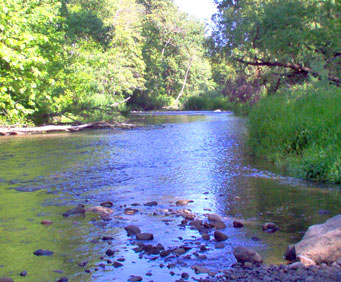 into the Roark and I spent many a great afternoon hauling them in. I remember one day walking down to the creek with a new weapon…it was a spinner lure that some of the old timers in Branson said that the trout were hitting on. I always fished with salmon eggs or corn, so this was new for me.  When I got to the creek, the late afternoon sun was hitting the water at an angle that illuminated a pool of water that was about 5 feet deep and I could clearly see hundreds of nice sized rainbow trout there. I thought I struck gold. I cast that spinner in and ran it by those fish and not a single one of them paid the least attention to it. I tried it again… and then again and again and again…over and over and not one fish even moved.  I let the spinner sink at little and watched as it even bumped some of the trout and still, not one single fish ever even nibbled.
I have thought about that many times over the years and I see the clear parallel with evangelism. We cast our lines and cast our lines, but the fish will only bite when it is God's will for them to do so.  God takes care of the numbers, not me.  I just need to keep fishing.
Have you been baiting any hooks lately?